Faces and Places of the Panhandle: a little bit of West Virginia flavor here in Florida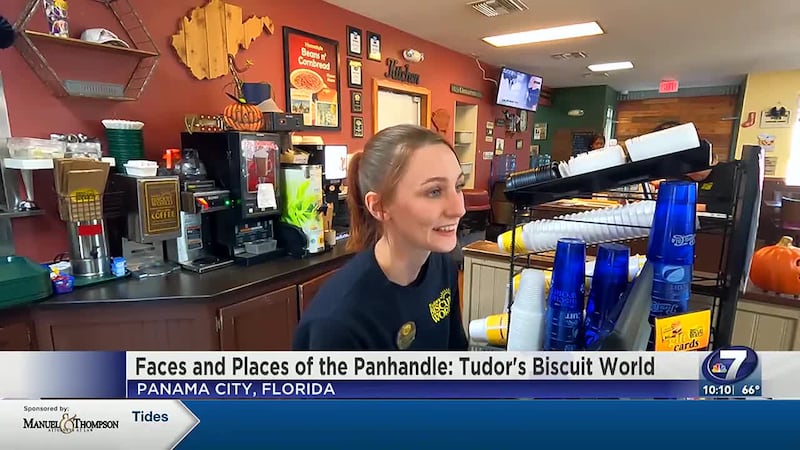 Published: Nov. 17, 2023 at 9:57 AM CST
PANAMA CITY, Fla. (WJHG/WECP) - If you're looking for a place to grab a bite to eat for breakfast or lunch, we have an idea for you. It's a restaurant franchise that started hundreds of miles away in West Virginia more than four decades ago.
Then, one opened in Panama City more than seven years ago, in May 2016.
In this week's 'Faces and Places of the Panhandle,' Mel Zosh shows us how her previous state West Virginia has direct ties to this restaurant: Tudor's Biscuit World. It is known in both states for its biscuits and gravy!
How did a Tudor's Biscuit World, a West Virginia restaurant franchise, end up in Florida?
The one in Panama City is Florida's only Tudor's. In fact, the next closest Tudor's is roughly 700 miles away in Southern West Virginia.
"A lot of people that either live here that are from West Virginia or are visiting from West Virginia said they almost wrecked when they saw the sign to get in here," said Nick Schirtzinger, co-owner of the Tudor's in Panama City.
Get to know the owners:
Schirtzinger and his wife Cara Pattinato own the Tudor's in Panama City. They say their sign to open their own restaurant came with a leap of faith and a desire to become their own bosses. Those dreams came to fruition in May 2016 when they opened Florida's first and only Tudor's Biscuit World on West 23rd Street in Panama City.
"Prior to that, we didn't have any sort of restaurant experience," said Schirtzinger. "Neither one of us worked in a restaurant ever," said Pattinato.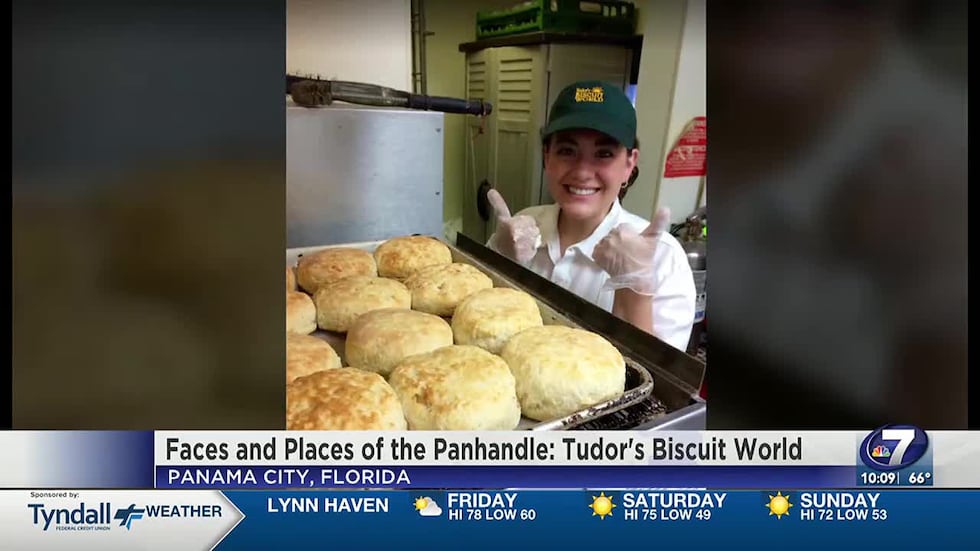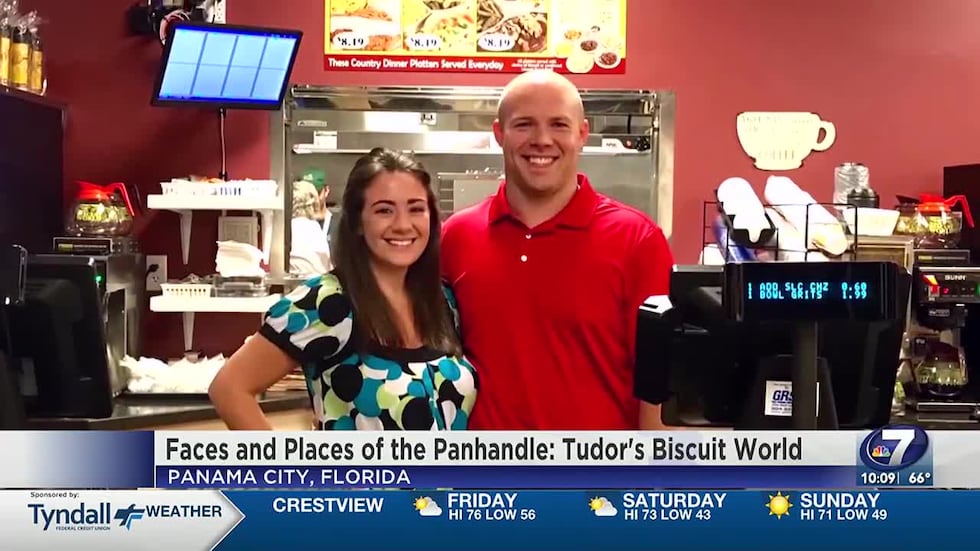 This husband and wife duo met and college in Pittsburgh. Schirtzinger is from West Virginia. Pattinato is from Pennsylvania.
Schirtzinger is no stranger to the Panhandle, though. He vacationed in this area with his family long before opening a restaurant was even a thought in his mind. Schirtzinger and Pattinato's previous lives were also a world away from this one.
"I was a youth hockey coach. We had about 800 kids in our program in Pittsburgh," said Schirtzinger. "I worked in corporate America for the H.J. Heinz company. I did finance and accounting," said Pattinato.
"We were in a totally different world before we started this (restaurant)," said Schirtzinger. "When we started, a lot of our employees actually taught us stuff," said Pattinato.
For the past seven plus years, they've been learning and striving to do better each and every day, for their employees and their customers.
"I spent six to seven months training in a corporate store back in West Virginia. I quit my full-time job to do that. I washed dishes, I took out trash, did cashier orders, you name it," said Schirtzinger.
A strong team at Tudor's Biscuit World:
They've been doing all those duties ever since. They also have a strong team to back them including 24 employees. Five of them have been there three or more years, and the majority have been there more than six years, according to Pattinato.
The employees range in age from teens through 60s. They also have two veterans on staff.
"We have an awesome team. We have people that have been with us since day one, seven years ago, through the hurricane (Michael in 2017), through COVID. You won't hear any of them say that's not my job, that's not my duty today," said Pattinato.
When duty calls, it's all hands on deck or in this case, the kitchen, the drive thru or the dine in line.
As for the most popular item on the menu?
"Biscuits and gravy. You can't go wrong with it. It'll fill you up. It's inexpensive," said Schirtzinger. "We cook our own pork sausage in our gravy so that makes it a little bit different," said Pattinato.
You'll also find West Virginia, also known as 'The Mountain State,' has definitely left its mark on the menu.
"Obviously the Thundering Herd is Marshall (University), and the Mountaineers is West Virginia University. The miner biscuit, because we are known for coal mining, the things like the Mary B, the Dotty and the Ron, those actually got their names from customers like us that would come in every day and get the same thing," said Schirtzinger.
Every customer who walks in the restaurant sees smiling faces to greet them and make them feel right at home whether they're in West Virginia or in Panama City, Florida.
More information about Tudor's Biscuit World:
Tudor's Biscuit World is open every day except Sundays and Mondays from 6 a.m. until 2 p.m. They are located at 2621 W. 23rd St. in Panama City. They also serve lunch. To connect on Facebook, go here.
Tudor's Biscuit World also has locations in West Virginia, Ohio and Kentucky.
Copyright 2023 WJHG. All rights reserved.