Foodie Friday: cooking up biscuits and gravy with 'The Polished Chef'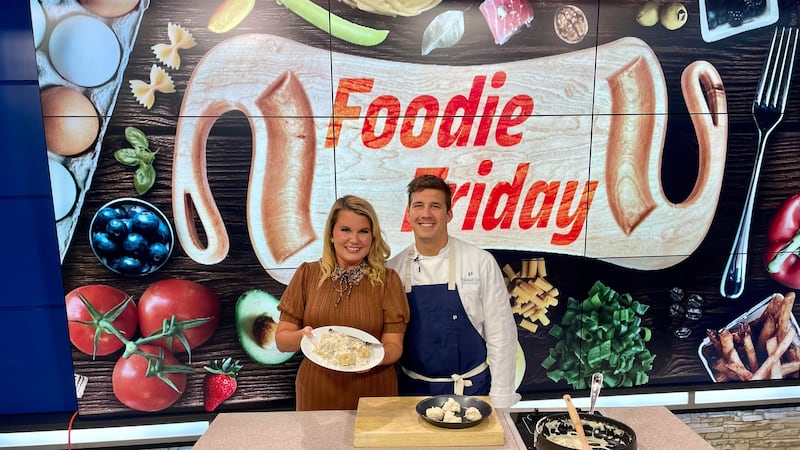 Published: Nov. 17, 2023 at 10:41 AM CST
PANAMA CITY BEACH, Fla. (WJHG/WECP) - On the Friday Nov. 17 edition of NewsChannel 7 Today's Foodie Friday, we featured chef Nathan Davis with The Polished Chef. They offer "an elegant culinary experience in the comfort and privacy of your home," according to the Instagram page.
Connect with The Polished Chef on Facebook here and Instagram here. To watch our cooking segment with Chef Nathan from October, go here.
On Friday, Chef Nathan cooked some delicious biscuits and gravy for us to enjoy!
Here is the recipe:
Biscuits
1 cup flour
1/4 cup lard
1 tsp baking powder
1/8 tsp baking soda
1/4 cup milk plus 1 tablespoon
Pinch salt
1/2 tsp Black pepper
Mixed all ingredients in a bowl until sticky. Place 4 equal size balls onto a nonstick baking sheet and bake for 25 minutes at 400
Gravy
1/2 lb sausage
1 small yellow onion
1 large shallot
1 tablespoon minced garlic
1 tablespoon butter
1 tablespoon flour
4 cups milks
1 tablespoon fresh thyme
Over medium heat, brown sausage & onions in a nonstick pot and remove. Set it aside. Leaving on medium, add 1 tablespoon oil to pot then add shallots, garlic, & fresh thyme and stirring to keep from sticking for 2 minutes then add to sausage mixture. Add butter and once melted slowly add flour sitting continuously. Once all flour is added slowly pour milk while stirring. Bring to a slow simmer and let simmer for 20 minutes until flour taste is cooked out.
Copyright 2023 WJHG. All rights reserved.