Rare sea turtle released back into Gulf of Mexico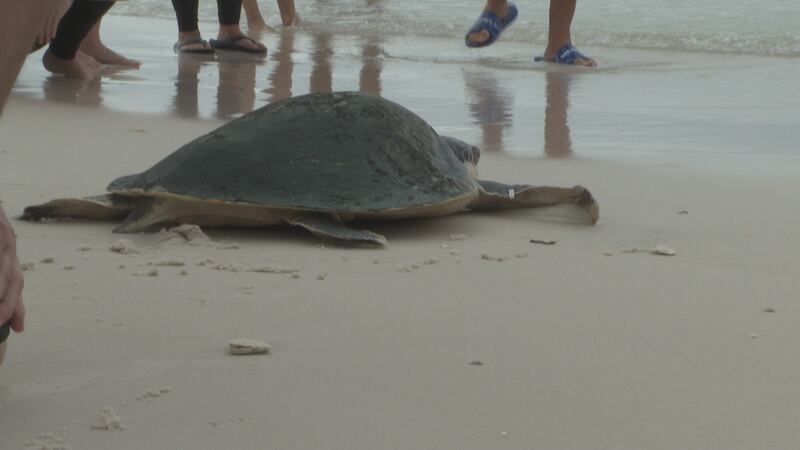 Published: Nov. 17, 2023 at 7:09 PM CST
INLET BEACH, Fla. (WJHG/WECP) - Staff at the Gulf World Marine Institute, based in Panama City Beach, are dedicated to rehabilitating and returning marine animals to their habitats. While sea turtle releases are nothing new to the institute, there was a special release Friday morning.
Despite the chilly, gloomy weather, spectators lined up to watch GWMI staff take "Simon" down to the shoreline. NewsChannel 7 was told Simon is a sub-adult, meaning he is almost but not yet quite an adult, Kemp's Ridley Sea Turtle. National Oceanic and Atmospheric Administration (NOAA) states Kemp's Ridley Sea Turtles are the smallest and rarest species of sea turtle. They majorly live in the Gulf of Mexico and are listed as critically endangered.
GWMI staff said Simon was originally hooked by a fisherman off the M.B. Miller Pier on August 15th. They said Simon did have a fishing line already wrapped around the left front flipper. NewsChannel 7 is told the fisherman contacted the pier management, and Simon was safely transported to GWMI's rehabilitation program.
Staff said they were able to get all of the fishing gear removed and give Simon medical attention for old wounds as well. They said it is incredibly important to protect all species in the gulf, particularly these endangered species.
"Especially in Simon's size, that turtle is almost mature. That turtle is almost ready to contribute to the reproductive population," Lauren Albrittain, Gulf World Marine Institute stranding coordinator, said. "Not that any other sea turtle is not important, but especially the reproductive-age ones, we really need to get those guys back out there. sea turtle species are top predators in their environment. Having a healthy sea turtle population means we can make sure we have a healthy Gulf of Mexico."
GWMI staff say they have helped two other Kemp's Ridley Sea Turtles that size this year, but they typically help smaller, younger ones.
If you happen to catch a sea turtle- or any similar marine animal or see one that may need help, staff say do not try to cut the lines or help it yourself, but to please call the experts like Gulf World Marine Institute or the Florida Fish and Wildlife Conservation Commission.
Copyright 2023 WJHG. All rights reserved.